WHS Yearbook
Yearbook InformationAttention INCOMING Senior Class 2021 and Guardians,

Here are frequently asked questions regarding yearbook. Please feel free to contact Miss Klemeshefsky at kklemeshefsky@wolcottps.org or Mrs. Ferguson kferguson@wolcottps.org with any further questions.

What information do I need to know regarding senior portraits?
Senior portraits can be taken through Impressions Studio (the schools photographer) or through another studio. Please make sure to follow the senior portrait specifications located on the WHS website when taking your portrait. Any portrait not following the specifications will not be placed in the yearbook.
All senior portraits need to be handed in on a CD or flash drive and dropped off in the box in the main office. If you took your portrait with Impressions Studio, they will provide the school with your portrait. ONLY SENIOR PORTRAITS NEED TO BE HANDED IN THIS WAY. All other photos can be submitted using the link below.
The DEADLINE for senior portraits is October 30th. Please schedule your appointments now if you have not already done so.

How do I purchase a yearbook?
You will find all pricing and packages at yearbookforever.com



What is a parent ad/create a memory and how do I purchase an ad (or a create a memory) for my senior?
A parent ad/create a memory is a way for parents to leave a special note with a picture in the yearbook for their senior. You can purchase all different sizes and can write whatever you would like. You can purchase this through yearbookforever.com as well.


How do we submit random photos for the yearbook?
You can either download the yearbooksnap app with eagles2021 as the access code and upload any and all photos through there, or you can go to the yearbookforever.com and click on community upload.
Please remember we count on you and your senior to send in photos for the yearbook. We do as much as we can taking pictures at events in the school but outside photos make the book that much more fun to look back at. The link below is used for all photos EXCEPT for senoir portraits.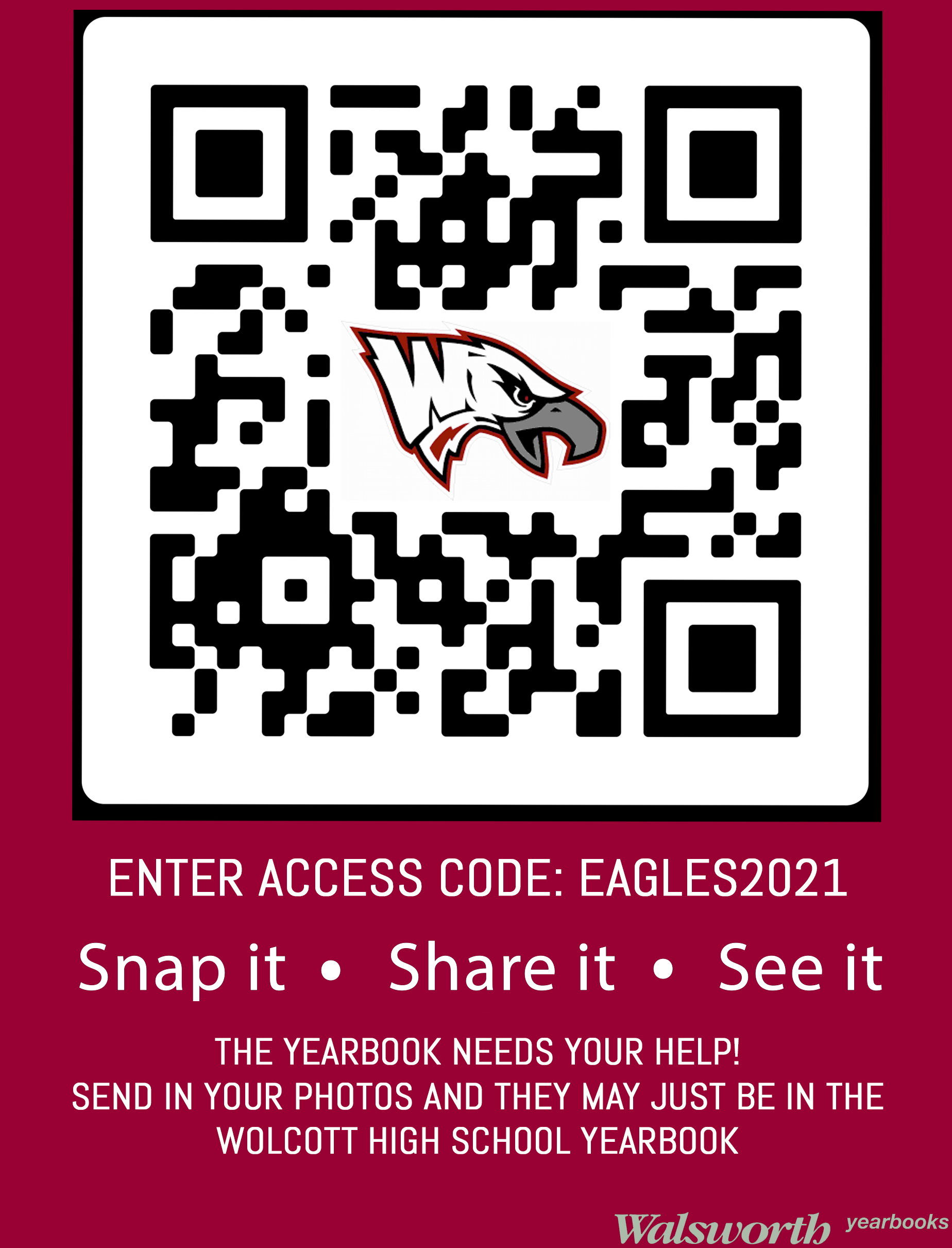 Who can I contact with any other questions and where can I find updated information?
Yearbook Co-Advisors are Miss Klemeshefsky kklemeshefsky@wolcottps.org and Mrs. Ferguson kferguson@wolcottps.org
All information will be constantly updated through the newsletter each month, twitter account (@Wolcottyearbook), WHS website under the yearbook tab, and through the Senior Class 2021 - yearbook google classroom that each senior should have signed up for.

Disclaimer: The Yearbook Staff will review all photos and determine final yearbook content. We cannot guarantee that all submissions can be used in the book.
Kristin N. Ferguson
SHAPE Teacher
Yearbook Co-Advisor